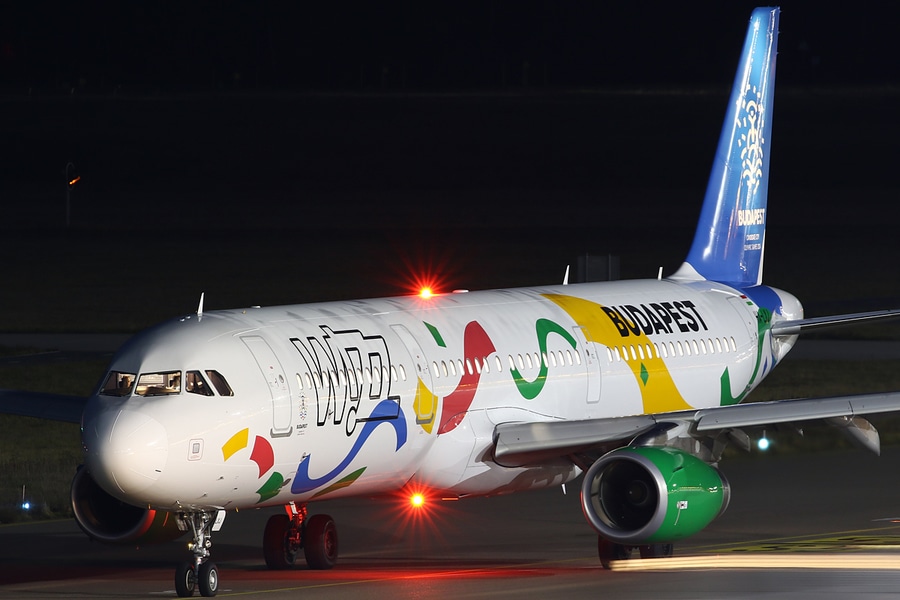 #

Industry News
Budapest Airport Spotting Guide
Budapest Airport has reinvented itself since the demise of Malev. It is now a hub for low-cost airlines like Ryanair and Wizz Air, and sees a good selection of European carriers, plus long-haul links from North America and the Middle East. With its own aviation museum on site and plenty to see, it's a great airport to go spotting at.
Airport Layout
The airport has a pair of parallel runways (13L/R, 31L/R), with the passenger terminal in the middle (alongside the Aero Park collection of preserved airliners).
On the western side of the airport is the original terminal (now closed) as well as military and cargo ramps, and maintenance facilities which often have airliners undergoing work.
A couple of retired airliners are used by the fire service for training, visible opposite the terminal. One aircraft, Tupolev Tu-154 HA-LCA, has recently been painted in historic Malev colours and can often be seen in different positions around the airport.
Airlines at Budapest Airport
The primary airlines serving Budapest Airport today are:
. LOT Polish Airlines
. Ryanair
. Smartwings
. Wizz Air
Other carriers from across Europe call in daily, and there are regular long-haul links from airlines like Air China, Emirates, flydubai, Korean Air, Qatar Airways and Shanghai Airlines.
Cargo operators include Cargolux, FedEx Express, Korean Air, Qatar Airways Cargo, Turkish Cargo, and UPS.
Spotting Locations at Budapest Airport
1. Terminal 2A Observation Terrace
On the northern side of Terminal 2A, accessed via the mezzanine departure hall (level 3) pre-security, this outdoor deck has views over the northern stands and runway 13L/31R. It is open from sunrise to sunset. It is better in the mornings due to the sun position.
There is another observation area post-security with similar views.
2. Spotter Hill
An official spot, located down by the side of runway 13R. The spotter hill is popular with locals. You'll need a car to get here as it's a long walk from the terminal, or alternately take airport bus 200E to "Szemeretelep Vasutallomas". You will be able to photograph aircraft landing and lining up, and can see some traffic using the other runway at a distance. By car, drive past the old terminal 1 towards Budapest (keep right) and turn right onto Igló utca. Follow it to the end.
3. Spotterdomb
For runway 31R arrivals and departures, this location is great in good weather. It is located close to the town of Vecses, and you'll need a car as it's too far to walk. Head along the M4 towards Szolnok and turn off at Vecses/Ecser and turn left on Uj Ecseri and towards the town. Then turn right onto Ecseri ut and follow to the end. You'll be able to find a gap among the trees to watch and photograph aircraft, and there are some benches to sit at.
4. Runway 13L/31R Dirt Track
This is a more adventurous place, but can be rewarding.
Follow the M4 towards Szolnok. Exit towards Vecses/Ecser, then right onto Uj Ecseri ut, and take the third exit on the roundabout. You'll enter a dirt road which follows around the end of runway 31R and along the fenceline, where you can pick a spot that suits you.
You might want to leave the car at a suitable spot and walk the rest, as it can often be muddy or rutted. You'll also need a ladder for the best photographs.
Aeropark Budapest
Budapest Airport | +36 20 617 4141 | www.aeropark.hu
A fantastic collection of Soviet airliners related to national airline Malev and the Hungarian Air Force is situated just outside the terminal at Budapest Airport.
The aircraft can be seen outdoors as you pass, but it's worth paying the entrance fee to see them up close. They include a Tu-134, Tu-154, IL-14, Yak 40 and two IL-18s.