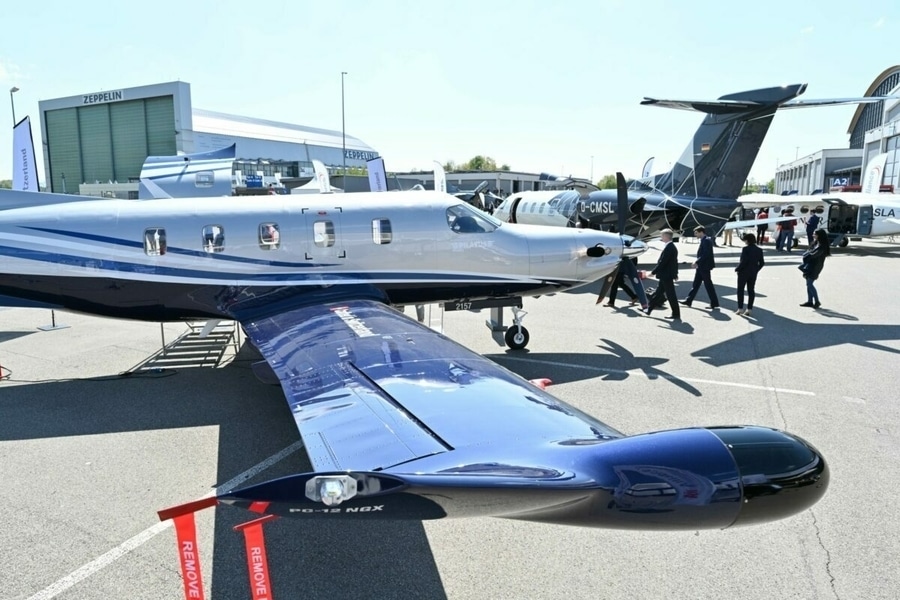 #

Trade Shows & Events
AERO Friedrichshafen Focuses on Sustainability, Single-Engine Turboprop Ops
The much-expanded European expo featuring general and business aviation takes place in Germany next week.
With the move towards a net-zero emissions future top of mind—particularly in the European Union—it's no wonder that AERO aerospace conference and expo will focus on the myriad ways in which members of the industry across the spectrum are working to achieve these collective goals. Even though global aviation is responsible for less than 3 percent of worldwide CO2 emissions, the industry remains committed to becoming CO2 neutral.
AERO 2023 takes place in Friedrichshafen, Germany, from April 19 through 22, promising its massive exhibit halls and ramp near the Zeppelin hangar will be buzzing with the more than 635 exhibitors that plan to attend. We hear that Gulfstream's even going to fly in its G500—a first for the business jet OEM.
Here are just a couple of key elements we're looking forward to reporting on during FLYING's time at AERO next week.
Sustainability Trail
Alternative fuels and propulsion take center stage on AERO's Sustainability Trail this year, with those exhibitors "committed to sustainability in aviation" identified, according to a release from AERO.
Tobias Bretzel, AERO show director at trade show organizer, said, "The future of aviation is extremely exciting, but also sustainable. The innovative power of the industry is enormous and AERO visitors can look forward to seeing many 'green' technologies in the exhibition halls and learning about them in numerous conferences. Ecology and economy often go hand in hand: electric flight, for example, makes flying not only low-emission and low-noise, but also significantly cheaper."
As a complement to this, AERO will host a full-day symposium on the use of hydrogen as an aviation fuel for the first time on Friday, April 21, featuring research centers, universities, and industry representatives which will "provide answers as to how and whether the various systems can be installed in small aircraft, helicopters and transport aircraft," according to the release.
To learn more, visit the AERO site.
Single-Engine Turboprop Ops
EASA's much-anticipated decision to open up the potential to operate single-engine turbine aircraft commercially at night and in instrument meteorological conditions—termed "CAT-SET-IMC"—promises to charge up this corner of the industry, and coming after 20 years of considerable effort to achieve the possibility.
In part to support this, AERO will host a Single Engine Turboprop Operations Conference (SETOps) on Friday, April 21, with a day full of seminars and training moments. According to a release from Emerald Media, which first introduced SETOps in the UK, the General Aviation Manufacturers Association/Europe (GAMA Europe) is supporting and promoting its move into the EU.
The program includes the following:
. Bruno Budim, former executive director and accountable manager of BenAir Norway, Europe's experienced Cessna Caravan operator, and long-time ambassador and promoter of CAT-SET-IMC in Europe, "will disclose the key findings of a GAMA and EBAA-backed SETOps' Operators' European survey," according to Emerald Media.
. Darrell Swanson, co-founder of UK AAM management consultancy EAMaven, "will highlight the important pathfinding role SETops operators can play to help the challenging new world of advanced air mobility."
. Dedicated sessions on MRO and engine support, pilot supply, and the need for close collaboration with small airports.
. Speakers from industry leaders, including Daher, Pilatus, Garmin, Oriens Aviation, Oysterair, Jetfly, AOPA Germany, Rheinland Air Services, and Ampaire. EASA will be represented on a panel with GAMA, EBAA, and Daher.
Single-engine turboprops also form an efficient and "here now" way to reduce emissions, through the use of SAF where possible, and owing to their overall fuel efficiency.
Those interested in participating can book here http://www.bit.ly/41H58fV