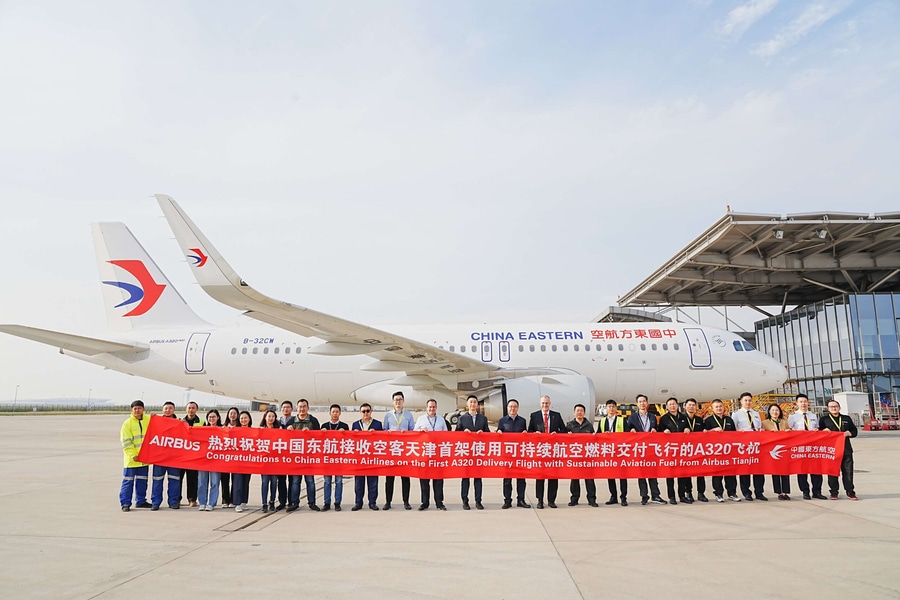 #

Industry News
Airbus To Deliver 160 Jets, Boost Production In China
The deal signed during a French state visit to China includes cooperation on SAF production.
Airbus has entered agreements to increase production of its A320 family of jets at the company's assembly plant in Tianjin, China, and to deliver 160 aircraft to Chinese airlines, the manufacturer announced Thursday.
The agreements also include plans to "intensify Chinese-European cooperation" in the production and use of sustainable aviation fuel.
The company said the agreements, which it signed during a French state visit to China with Chinese President Xi Jinping and French President Emmanuel Macron among the witnesses, will help Airbus reach its global production goal of 75 aircraft per month during 2026.
Airbus has four final assembly facilities worldwide for the A320 family of aircraft. They are located in Hamburg, Germany; Toulouse, France; Mobile, Alabama; and Tianjin, China. The Tianjin final assembly line began operating in 2008 and has turned out more than 600 aircraft. Under the latest agreements Tianjin will receive a second line, Airbus said.
Airbus said that during the next 20 years, forecasts indicate China's air traffic will grow at 5.3 percent annually, compared with the global average of 3.6 percent. Such growth will drive demand for 8,420 passenger and freighter aircraft, or about 20 percent of total demand for aircraft, between today and 2041.
Airbus said it also agreed to work with the China National Aviation Fuel Group "to intensify Chinese-European cooperation on the production, competitive application and common standards formulation for sustainable aviation fuels."
Last September Airbus and CNAF worked together to facilitate 17 delivery flights and one commercial flight, the company said, adding that the new agreement is meant to optimize the SAF supply chain and move toward a goal of using 10 percent SAF by 2030.
"We are honored to continue our long-standing cooperation by supporting China's civil aviation growth with our leading families of aircraft. It underpins the positive recovery momentum and prosperous outlook for the Chinese aviation market and the desire to grow sustainably with Airbus' latest generation, eco-efficient aircraft," said Airbus CEO Guillaume Faury.
Airbus said it first entered the Chinese market with its A310 airliner in 1985. By the end of this year's first quarter, the company's fleet in China had grown to more than 2,100 aircraft, or more than half of the market, the company said.