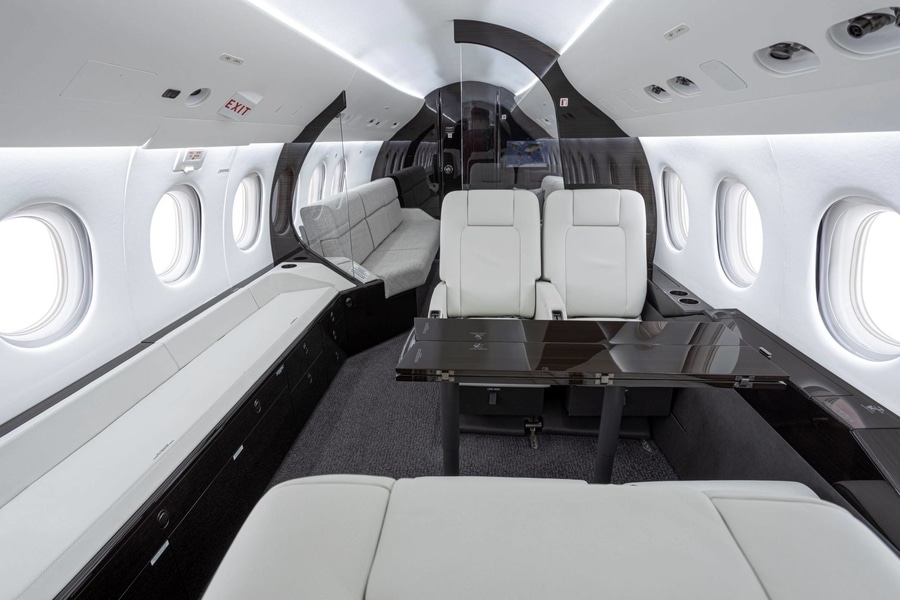 #

Industry News
Duncan Aviation Delivers Fully-custom Falcon 900EX
Duncan Aviation's MRO facility in Battle Creek, Michigan, recently delivered a fully-transformed Falcon 900EX to an undisclosed customer. Following a comprehensive 3C inspection, the trijet underwent a refurbishment of its interior and exterior.
According to the company, when the aircraft arrived at Duncan Aviation, "It lacked the character and uniqueness the customer wanted." Under the direction of lead designer Heather Pridemore, Duncan Aviation's creative teams restyled the jet's interior and exterior. Along with the overall black-and-white aesthetic, the interior features a three-place custom divan and a center divider featuring transparent acrylic panels that provide privacy in the aft cabin without feeling cut off from the rest of the aircraft.
To complement the custom seating while streamlining the interior's look, the design team incorporated a variety of subtle design cues, such as running the veneer grain forward to aft, updating the lavatory vanity to a modern look, and installing LED lighting.
The Falcon 900EX's exterior received a custom modernized paint scheme. The graphics' sleek lines and flowing curves are done in a dynamic black-and-white, two-tone design with metallic silver accents to evoke a sense of speed and motion, Duncan Aviation said.