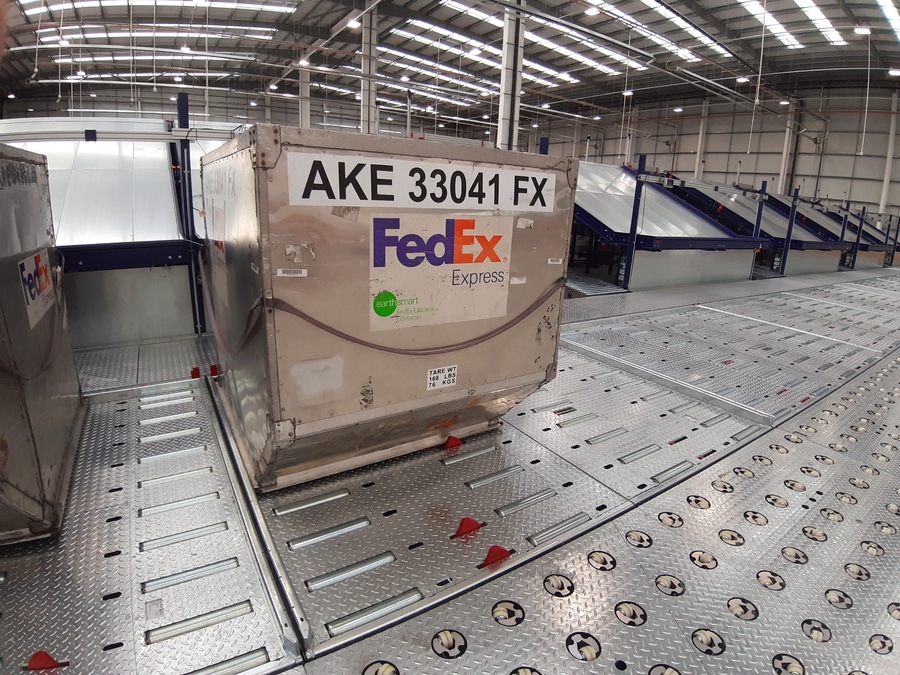 #

Product Trends
Product in the spotlight: Manual Roller Deck (System Level 508)
A more detailed description of our Manual Roller Deck
Non-powered roller deck for manual conveying and storage of ULD's for either NEP or WEP presentation. Various sizes are available to accommodate different ULD types and to suit the overall system lay-out.
Roller decks consist of a steel frame, walkways and multiple cargo rollers.
The cargo rollers are fitted in such a way that these can easily be installed and replaced from the top deck surface without requiring special tools.
Roller Decks can optionally be supplied with extra ULD stops and protection barriers as required for the system lay-out. Adjustable supports are fitted to the decks for floor mounting.
Specifications
Standard Roller Deck: 10 ft NEP or WEP
Capacity – safe working load: 6,800 kg
Capacity – type of ULD's: maximum 10 ft base size with dimensions:
L x W: 96 x 125 inch (2,438 x 3,175 mm)
Total length: 3,300 (NEP), 2,600 mm (WEP)
Total width: 2,600 (NEP), 3,300 mm (WEP)
Conveying height: 508 mm
Guide heights: 50 mm
Cargo roller:
- diameter x wall thickness x length: 88.9 x 2.9 x 370 mm
- total length x hex. shaft: 410 x 11 mm
Number of lanes / cargo rollers: 3x 11 (NEP), 4x 10 (WEP)
Number of walkways: 2 (NEP), 3 (WEP)
Number of ULD stops : 2 (NEP), 4 (WEP)
Finishing: Hot dipped galvanized frame
Weighing System (if applicable):
The roller deck can be fitted with an integrated weighing system equipped with:
• 4 heavy duty stainless steel load cells, beam type, 50 kN capacity
• Junction box and weight indicator for display of tare, net, and gross weights.
The weighing system will be calibrated and verified at site after installation.
Weighing capacity 8,000 kg with 5 kg divisions.