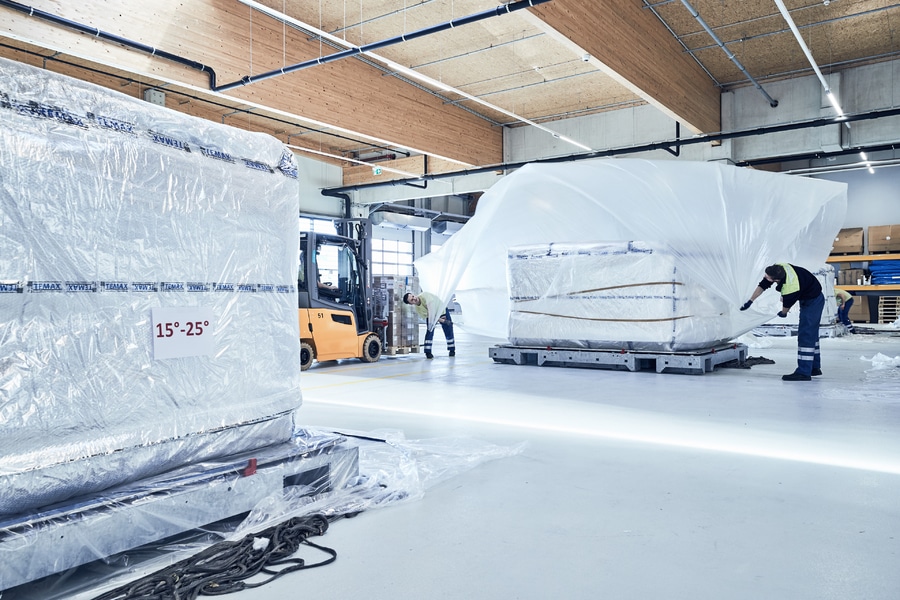 #

Product Trends
Cargo and Freight handling in Coolers and Cooled areas
Solutions for your Cargo Handling in Chilled and Cooled Area's
The handling of perishables such as flowers, fruits, vegetables, fish, meat, and medicines etc. requires special attention. This is related to keeping the cool chain intact also the handling equipment is to be suited for these conditions and handling requirements.
Cargo Handling in Cooled or chilled area's require equipment suitable for temperatures below zero.
At Saco Airport Equipment we offer solutions for your specific "cooling Area" needs.
In a cold room environment, all castor decks, platforms and frames are hot dip
galvanised. Castors and rollers are zinc plated.
Low profile slave pallets for supporting air cargo pallets and containers (ULD's) during manoeuvring and building / breaking in combination with the Pallet Master provide a great solution for your Cargo Handling in Cooled area's.
Saco Slave Pallets are available in various versions;
- with a roller deck for conveying in one direction (NEP or WEP), or
- with a ball deck for conveying in two directions (NEP and WEP)
ULD's are conveyed manually over the roller or ball surface.
The slave pallets can be used for building up / breaking down pallets at any suitable place within the warehouse. By using multiple slave pallets, a dedicated conveyor system can be set up in virtually any configuration. When not in use, slave pallets can be stacked by a standard forklift truck to save valuable warehouse floor handling space.
Each slave pallet has a heavy duty hot-dipped galvanized steel frame and is equipped with either rollers or ball transfer units. Manual stops are available to keep the ULD in place.
Slave pallets can be picked up by the Pallet Master from all four sides.
Fork pockets for lifting by fork lift trucks are available on the two long sides.